Quest for Knowledge
SpartansLearn is a partnership between HR Professional Development Services and MSU Information Technology. Together, we're making it easier for Michigan State University employees to find professional development classes and technology training. 
Course Information
Professional Development
Professional Development Services offers programs that enhance professional skills and overall competencies for increased workplace efficiency and effectiveness.
Technology Training
MSU IT training has been transitioning from traditional classroom delivery of content to web-based delivery methods over the past couple of years.
This has been possible, in large part, by partnerships the university has formed with third party vendors (e.g., New Horizons, SkillSoft). Remaining instructor-led courses are posted in EBS.
Courses and Enrollment
Newsline
Accessibility courses are now available
Eliquo offers accessibility training and other technology training in a live, online format. Eliquo training is subsidized in part by MSU IT, so your final cost is $74 per training day. You can pay for Eliquo training using Educational Assistance or by department charge. See Eliquo class offerings.
To register for one of these classes, complete the online request form. The form will be processed within one to two business days, and you will receive a response once the Training team verifies the availability of the course requested.
New Horizons Offerings
MSU partners with New Horizons to provide a wide range of technical training, desktop applications, ITIL training, and programming language courses for MSU employees and departments. You will find a wide variety of business and technology classes in the New Horizons Training Portal for MSU. (EBS no longer offers New Horizons course registrations.)

You can use Educational Assistance funds if available, a departmental credit card, or a personal credit/debit card as payment. Please review the updated registration process for New Horizons offerings.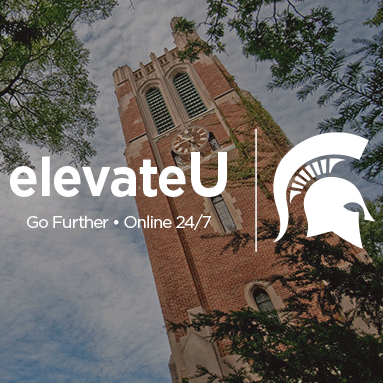 With elevateU, MSU staff and faculty have access to a diverse, self-paced, 24/7 online library of content.

Programs are free and include resources you may use in your daily job or as part of your ongoing personal and professional development.

To access elevateU, log into EBS, select "My Career and Training", and then click "elevateU".
Bolder by Design
Is our shared strategic framework that aligns our efforts across Michigan State University and around the globe, harnessing the power of working together to achieve our highest aspirations and to fuel the creation of better outcomes and growing value for our students, state, nation, and world.
Six imperatives that commit us to delivering distinctive, high-value impact and experiences in everything we do:
Enhance the student experience by expanding opportunities for where, when, and how students learn and increasing the value of an MSU degree.
Enrich community, economic, and family life through research, outreach, engagement, entrepreneurship, innovation, diversity, and inclusiveness.
Expand international reach through academic, research and economic development initiatives, and strategic alliances.
Increase research opportunities by expanding funding to support high-impact scholarship and research.
Strengthen stewardship by nurturing the university's financial assets, campus environment, infrastructure, and people.
Advance our culture of high performance by elevating the quality and effectiveness of every product and process.