Live Course Listing
Free instructor-led classes offered by MSU IT Training
MSU IT Training is offering FREE live virtual instructor-led training. Use the Training Registration tool below to view available classes, register, and reference your active and previous classes.

View Courses: See what courses are available along with the class description and learning outcomes.
Register for a Class: Register yourself for a class.
My Classes: View your upcoming and completed classes.
Group Registration: Register multiple people for a class.
This app will continually reflect new classes and class dates as they are added so you may want to bookmark this page and visit at least once a month.
NOTE: For first time users, please click the Allow button on the application below to set the permissions. Here is a picture of what you will see in the application.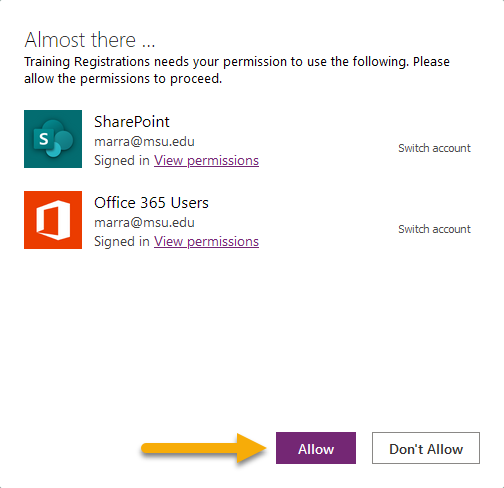 NOTE: Please be patient, as the app may take up to 15 seconds to load.
Stay in the Know
Join the MSU IT Training Mailing List to stay on top of new courses and course dates and other important information from the MSU IT Training Team.
Need more help?
Help appointments are available from the MSU IT Training Team through MSU IT Bookings. Individuals in the MSU community can request a one-on-one help session for any of the services listed.
You can also send an email to train@msu.edu for questions or any additional assistance.
Feel free to reach out today!