Live Course Listing
Free instructor-led classes offered by MSU IT Training
MSU IT Training is offering live instructor-led training sessions in a way that best fits your schedule: virtual and in-person. Use the Training Registration tool below to view available classes, register, and reference your active and previous classes.

View Courses: See what courses are available along with the class description and learning outcomes.
Register for a Class: Register yourself for a class.
My Classes: View your upcoming and completed classes.
Group Registration: Register multiple people for a class.
This app will continually reflect new classes and class dates as they are added so you may want to bookmark this page and visit at least once a month.
NOTE: Live Course Listing is not compatible with Safari. Please use an alternative browser, such as Google Chrome, Microsoft Edge, or Firefox to browse available live courses.
NOTE: For first-time users, please click the Allow button on the application below to set the permissions. Here is a picture of what you will see in the application.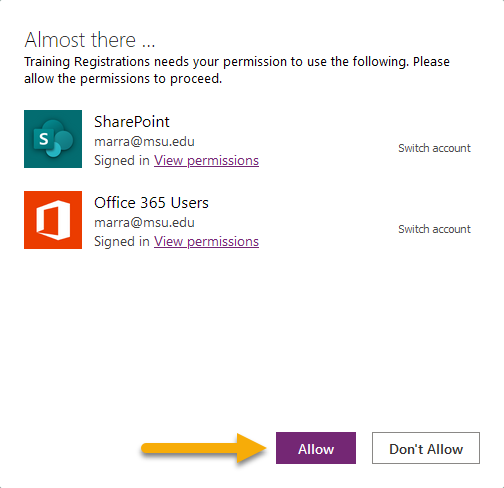 NOTE: Please be patient, as the app may take up to 15 seconds to load.
Need more help?
Join us for office hours! Individuals across campus can join our weekly, 30-minute sessions for any questions you may have. 
You can also send an email to train@msu.edu for any additional questions.
Feel free to reach out today!